Products from Easy series are most popular choices for entry-level applications such as retail. L series IP cameras, B series NVRs, Ultra 265 PoE kits and Navigator PTZ dome cameras are included. All of them are featured with Ultra 265 compression technology which is exclusively released by Uniview. In addition, they provide excellent performance with affordable price. Meanwhile, Easy series are easy to install and maintain, hence can be utilized anywhere. Easy family products are most cost-effective options for a residence and small business application.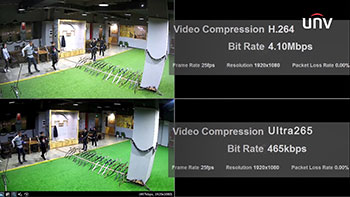 Ultra 265 technology is properly utilized in Easy series which can help to save 75% of the total cost. It consists of standard H.265 compression and U-code technology which was exclusively developed by Uniview to have excellent bitrate control and bandwidth reduction whereas keeping perfect image quality. It is not only a compression technology, but a cutting-edge end-to-end solution.
Smart IR and 2D/3D digital noise reduction are combined to show outstanding image quality. Two high-powered car-grade LEDs with Smart IR technology efficiently enhance IR compensation in completely dark scene. Meanwhile, DNR technology can widely utilize in static and movement scenes to reduce noise on images and display clear image under low light.
Cameras of Easy series have amazing performances. Software IR control technology removes hardware optical coupler to avoid extra cost caused by hardware failure and automatically detect image brightness to control the IR cut. They are more sensitive to detect the illumination of environment and realize more accurate change day and night. Meanwhile, IR anti-reflection glass increases 8% infrared transmittance and repels insects gathering at night. Besides, IP67, IK10, wide temperature range and ±25% voltage tolerance are also featured to implement higher reliability.
Navigator PTZ Dome Cameras
Due to highly accurate stepping motors and fast pan speed, Navigator PTZ dome cameras move stably and smoothly. Hence stable video can be produced without jerk. There are 1024 presets which can be easily configured as cruise. Moreover, built-in heater around the camera's window can remove snow and fog on lens automatically. Those remarkable functions would reduce unnecessary operations and provide better user experience.
Cameras and NVRs from Easy family all support Plug & Play which are easy to install because of zero configurations.
5MP Easy series cameras applied dual-stream to store videos in two different bitrates for multiple uses. Moreover, they are compatible to ONVIF (Profile S /G), LAPI and SDK. Easy series NVRs also comply with ONVIF hence almost all types of cameras can be added to the device easily. Besides, SD card & ANR, cloud upgrade, one-click add applications are also featured so users can manage those devices conveniently and systematically.