UNV Pro series are born with excellent ultra-smart technology, deliver superior users experience. Applied with professional smart functions, these products are able to suit for a range of tough situations. Addition to amazing cameras performance, Pro series NVRs also have outstanding ability to record and decode with professional hardware design. They are integrated with manage, store, and transfer functions. The Pro series products absolutely are the first options for enterprise and project applications.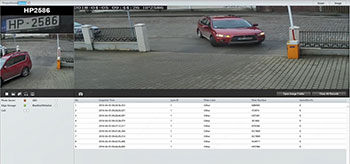 Compared to Prime series, more professional intelligent functions are added in UNV Pro series. Those cameras are featured with LPR (license plate recognition), LPD (license plate detection), and auto tracking functions.
Pro series cameras provide 4K HD resolution and 12MP image quality to ensure extremely clear visual effects. Pro series NVRs also have HD-resolution video analysis.
All products in Pro series support more advanced practical functions. With white light and laser IR compensation, cameras can provide extremely long distance light compensation. Moreover, cameras with extremely long zoom distance have wider video surveillance range and display clearer image details. Passive IR detects moving objects and triggers white light to see clearer and having criminals been exposed. There is also built-in heater to realize intelligent temperature control by removing snow and fog on lens automatically.
NVR of Pro series support intelligent fan control, smart temperature control and embedded 3U chassis, ensure the stability of the system. Besides, they have hardware based redundant power supply and BIOS to guarantee operation works safely.
Multi network interface design activated by various kinds of work modes such as load balance, multi-address and fault-tolerant can almost meet all requirements for demanding application.
Although the device itself has limited HDD slots, the extra disk enclosure can expand the storage capacity. The master and slave architecture is able to increase storage capacity greatly, and bandwidth can be doubled or more.
As a unified management center, different devices like IPC, NVR, Encoder, Decoder Keyboard and even alarm & door access control can be added to the system. BS/CS/APP client helps to easily access to device. Other value-added functions like e-map and permission management and operation management would help users to make full use of the system.
UNV dedicated video decode card can deliver two kinds of video wall applications – split screen mode and multi-screen mode. The split screen mode can display live view from multiple cameras simultaneously while the multi-screen mode can display one high resolution video by multiple screens.
1:1 hot standby function ensures the system usability. It is an industry top-level solution which is able to protect data safety and business stability day and night. When the primary host breaks down, the standby host will take over the whole system smoothly that even users would not notice.