It is unbelievable that you can always find ideal products in UNV Prime series which has more advanced functions to implement excellent performance. Prime series contains standard and enhanced cameras and NVRs which have a wide range of smart functions, resolutions and high-quality video content intelligent analysis. Various mainstream resolutions such as 2/4/5/8MP are available for whole series and can present different levels of image quality. VCA of recorders, including face detection, intrusion detection, and defocus detection, are able to improve management efficiency greatly. Therefore, products from Prime family are commonly used in commercial building, park, and small project application to effectively guarantee security.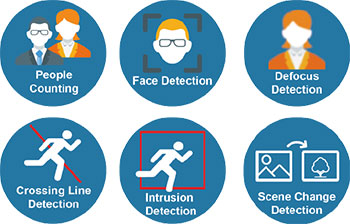 Cameras embedded with a wide range of smart functions to deliver different solutions. For instance, face detection, intrusion detection, scene change, crossing line detection, audio exception, defocus detection. Prime series cameras are more flexible and provide better performance.
Uniview redefines starlight by up to minimum 0.0005Lux illumination to realize high-resolution color images during the night. The Super Starlight cameras of StarView series are featured F1.2 big iris lens to let more light in. Meanwhile, the backside illumination (BSI) technology improves low-light sensitivity, and unique ISP launched by Uniview is also a key feature.
Complete forms of housing designs are included in Prime series cameras, such as bullet, dome, box, turret, PTZ dome and eyeball.
Prime series contains various image resolutions – 2/4/5/8MP, which provides abundant levels of image quality. Hence users are able to apply large numbers of cameras in large scale scenarios.
Prime series cameras feature a number of functions to improve users' experience. 120dB WDR and starlight are combined to present clear image. Meanwhile, they support multiple interfaces to simplify configuration: audio, alarm I/O, and built-in microphone. Besides, corridor mode, motorized vari-focal lens with AF, power sharing are also applied to bring users more convenience.
Compared to common NVRs, NVRs in Prime series show better performance. They support up to 12MP recording resolution of cameras and 4K output, ready for professional solutions. Furthermore, these NVRs apply Ultra 265 technology which could help to save up to 75% of total cost. Other distinct functions such as fisheye de-warp, heat map and POS of Prime series NVRs are suitable for commercial application.
Video Content Intelligent Analysis
Prime series NVRs support various kinds of professional and intelligent video content analysis such as face detection, intrusion detection, crossing line detection, item remnants detection, people counting and some deep learning functions.
Various technical methods are used to ensure the safety of NVR's storage. For example, ANR, RAID, and N+1 hot spare would reduce costs if unexpected accident happens.
The N+1 hot spare is a simplified solution for small scale business. Unlike the common HA solution, it only needs one NVR to backup for several hosts in the network so as to balance the cost and reliability.